When you choose cremation, there are many options for honoring your loved one. Selecting a permanent resting place in our cemetery provides future generations of your family a place to gather and remember your loved one.

Our Cremation Garden, located in the heart of the cemetery, offers many new and unique types of memorials. Below you will find information about what is available in the Garden. Please call us at 785-234-6605 for more information or if you have any questions.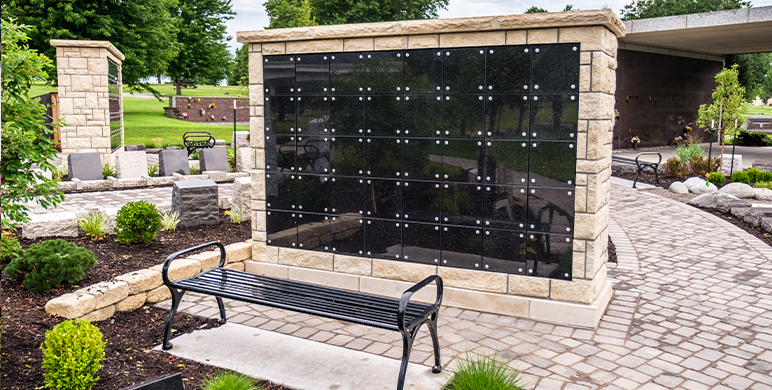 Niche Wall Inurnment
Prices starting at $2,500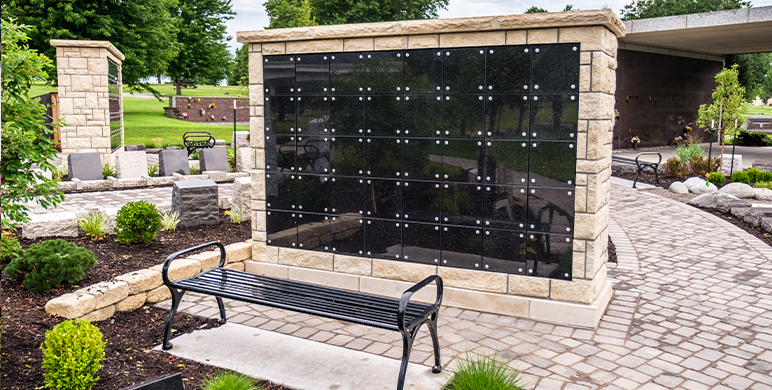 Inurnment in the Northwest or Northeast Memorial Niche Wall is available for individuals and companions. Urns are placed inside of the niche compartment.

The niche walls are constructed of limestone and black granite.
Upright Monuments
Prices starting at $2,350
Upright monuments are available in several sizes and styles, and accept two or four inurnments. Remains are placed inside the monument or within a ground-installed urn chamber, depending on the type selected.

Upright monuments are available in mahogany, rose, black and gold granite.
Memorial Pavers
Prices starting at $795
Memorial pavers line the east and west boundaries of the Cremation Garden. A simple, classic gray granite memorial designed for one inurnment, the paver will be engraved with your loved one's name and dates.
Walkway Memorials
Prices starting at $1,475
The pathways of the Cremation Garden are lined with end posts and curb memorials, designed for the placement of two sets of remains. Engraved gold or mahogany granite will be engraved with your loved one's information.
Garden Blocks
Prices starting at $1,350
Cremation garden blocks are available in varying heights and are designed for two inurnments. Located in graceful archways throughout the Cremation Garden, the blocks are available in polished mahogany or gray granite. Varying heights are available.
Granite Ledgers
Prices starting at $3,095
Memorial ledgers are available throughout the north end of the Cremation Garden. They are constructed of black, rose or gray granite, depending on which section you select. Ledgers have a larger space for engraving than other options in the Garden.

River Boulders
Prices starting at $2,100
River boulders, located along the northern-most sections of the Reflection Walk, are designed to hold one or two sets of remains. The boulders are natural stone, which will weather over time into a beautiful patina. Engraving is available.
Family Estates
Prices vary
Family estates offer room for inurnments of up to eight family members. An engraved paving stone with the family name is placed at the front of the memorial. Estates are custom-ordered in several different granite colors.

Community Ossuary
Prices starting at $395
Our community ossuary is an economical option for memorialization. Remains will be placed in a community chamber and your loved one's names and dates will be added to the memorial plaque.